geoWidgets is pleased to introduce geoProspector! geoProspector is now available on the ArcGIS Marketplace. Get it today! 
The geoProspector ArcGIS Pro Add-in downloads geospatial data from ArcGIS REST Map Services when Feature Services do not exist. With geoProspector, GIS professionals have a tool that simplifies the complexity of identifying, downloading, and displaying Map Service features in an easy-to-use ArcGIS Pro Add-in.
Before geoProspector, GIS professionals had to use a variety of scripting languages and a complex, multi-step process to download the data. geoProspector simplifies accessing the data stored in ArcGIS Map Services with a simple ArcGIS Pro add-in. With geoProspector, you add an ArcGIS Map Service URL, define the output File Geodatabase, and download the data in minutes.
geoProspector provides GIS professionals with the following benefits:
No Coding Required: Built for ArcGIS Pro, geoProspector does not require any developer or special IT requests to use.
Saves Time: Eliminate the complex and lengthy process to acquire and manipulate data from ArcGIS Map Services.
Provides Easy Access to Data: geoProspector simplifies accessing all the data stored in ArcGIS Map Services, all from ArcGIS Pro.
Flexible & Configurable: geoProspector provides the ability to specify Object IDs, define query statements, set input geometry, and spatial relationships for the input to refine the data.
geoProspector simplifies downloading local copies of map service features to use in ArcGIS Pro.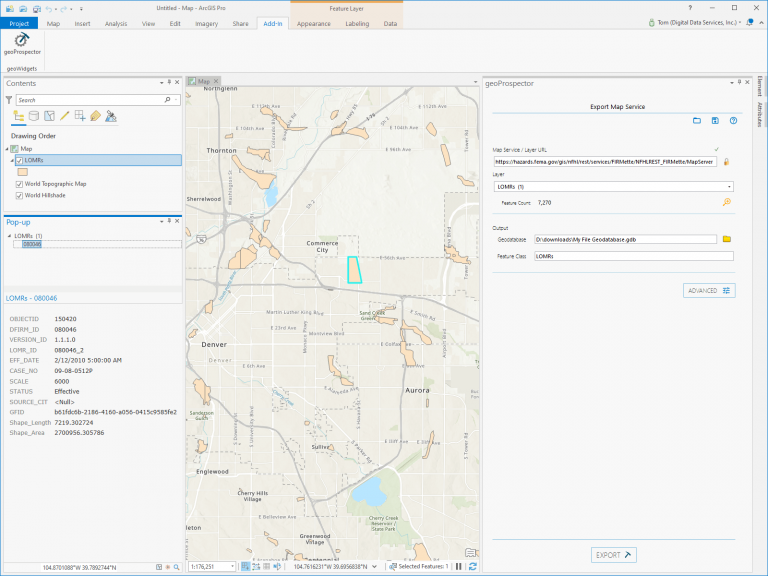 Need to get under the hood? geoProspector's Advanced Options give you the ability to set input and output parameters, such as only returning the fields you need.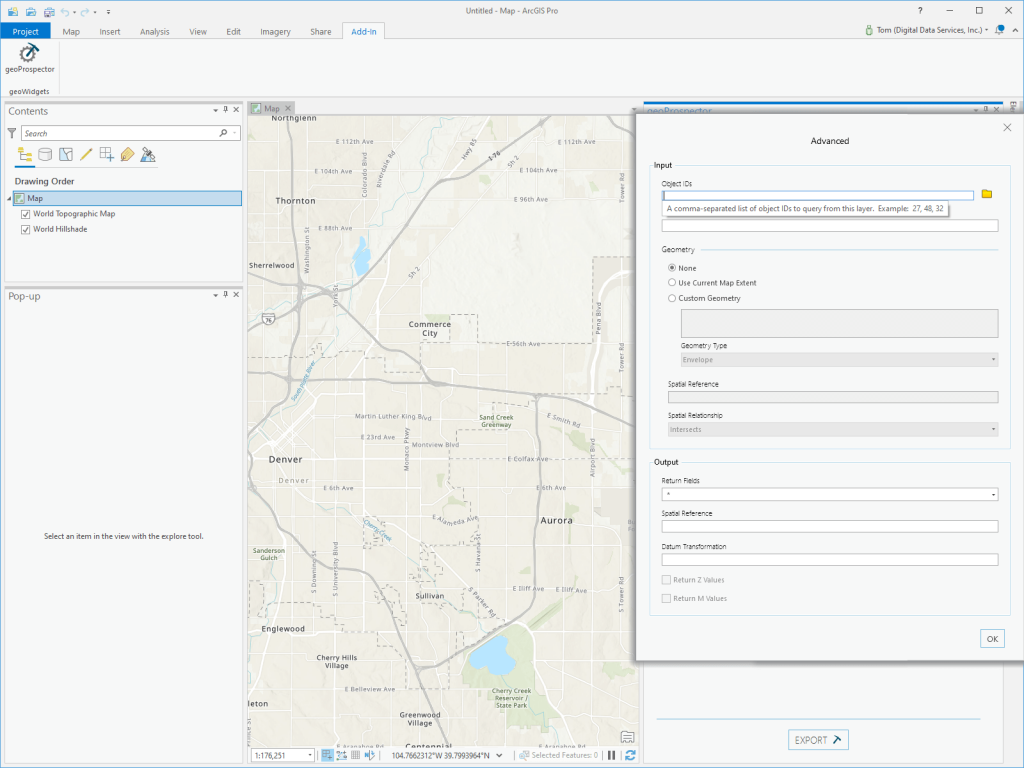 Track your progress. geoProspector provides feedback as to the progress of your download.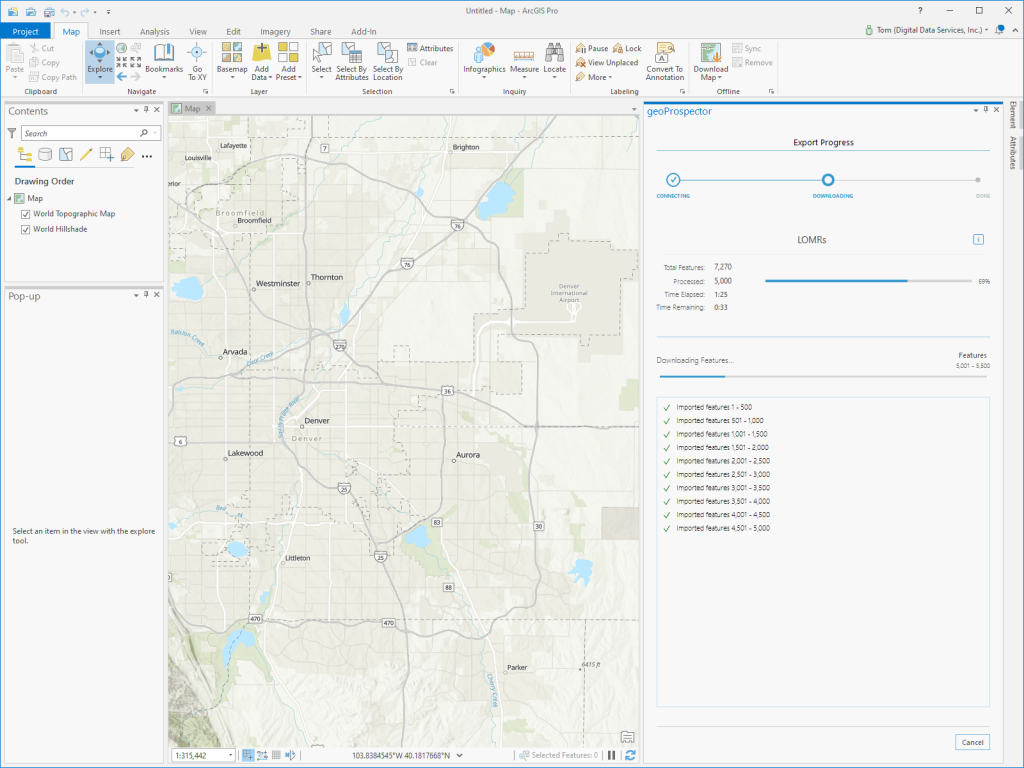 Want to use the data now? Once geoProspector downloads your data, add it to your map right away!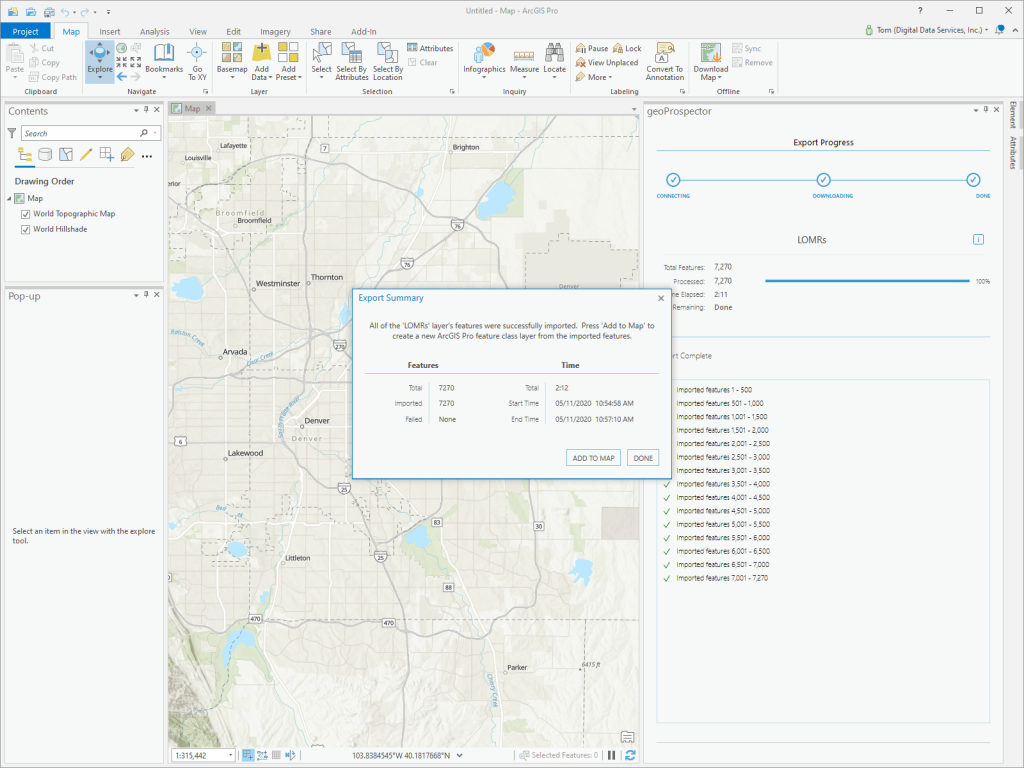 Need to check for updates? geoProspector can save your current configuration settings for future use!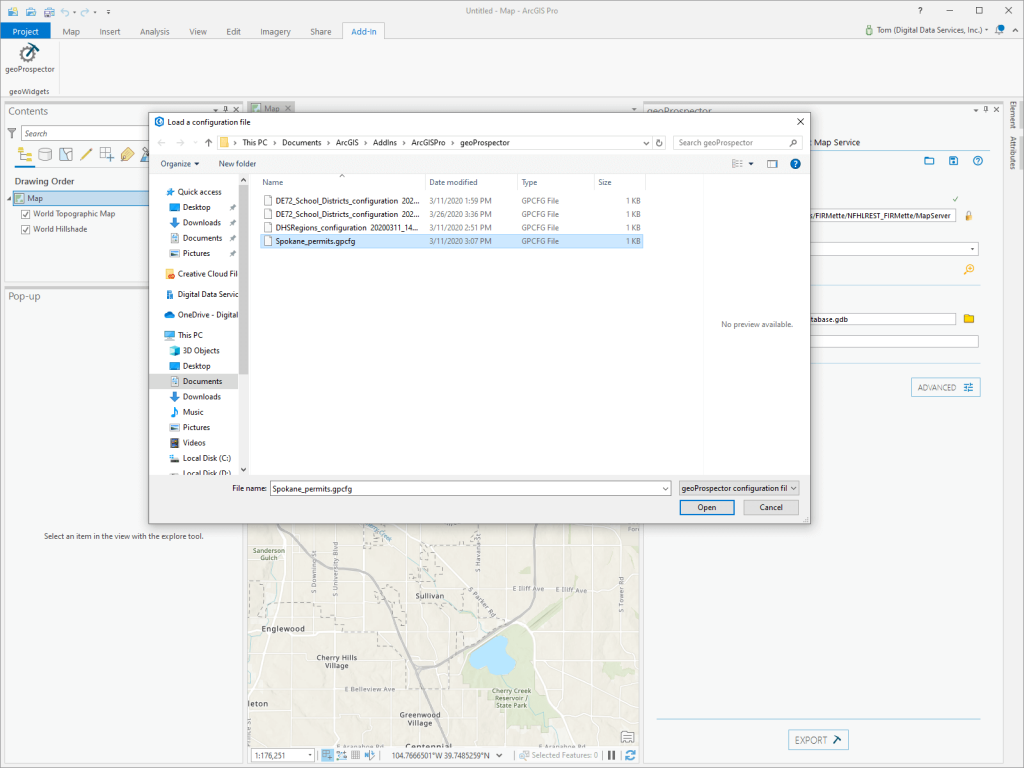 About geoWidgets by Digital Data Services, Inc.
geoWidgets is a family of products to extend and enhance ArcGIS web GIS solutions developed by Digital Data Services, Inc. Our vision is to leverage our two decades of geospatial experience to develop third-party web GIS extensions that enhance Web GIS. Our products include:  geoSherpa – An interactive tutorial system for web GIS  geoWidgets Activity Packs – Activities to enhance Geocortex Workflow.
Digital Data Services, Inc., is a GIS consulting firm that utilizes the power of the Esri product suite to provide state-of-the-art desktop and web GIS solutions since 1998. Our staff provides implementation and customization solutions for Esri web GIS and Geocortex products. If you need assistance, we are here to help solve your web GIS challenges.